The Analysis of Nursing Care in Cholelithiasis Patients Using Murratal Therapy to Overcome Pain in the Dahlia Room, Jemursari Islamic Hospital Surabaya
Kolelitiasis
Dewi Puspa Giri

Dewi Puspa Giri

Imamatul Faizah
Keywords:
Kata Kunci : Kolelitiasis, nyeri akut, terapi murratal
Abstract
Abstrak
Latar Belakang: Kejadian kolelitiasis cenderung meningkat karena perubahan perilaku gaya hidup pada masyarakat. Keluhan klinis yang sering ditemukan adalah nyeri akut pada perut kanan atas dan nyeri epigastrium. Tujuan: Untuk memberikan gambaran Asuhan Keperawatan pada pasien kolelitiasis dengan penerapan terapi murratal untuk mengatasi nyeri di ruang dahlia Rumah Sakit Islam Jemursari Surabaya. Metode: Tindakan keperawatan yang dilakukan  untuk mengurangi nyeri, yakni terapi murratal menggunakan media Al-quran untuk membantu meningkatkan perubahan yang spesifik dalam tubuh baik secara fisiologis maupun psikologis. Analisis ini menggunakan desain deskriptif dengan penelitian study kasus yang menggambarkan pengelolaan kasus dalam mengaplikasikan evidence based nursing practice dengan menggunakan pendekatan proses Asuhan Keperawatan. Hasil: Hasil analisis Asuhan Keperawatan terdapat pengaruh dari penerapan terapi murratal Al-Qur'an dengan kriteria hasil keluhan nyeri dari skala 2 (cukup meningkat) menjadi 4 (cukup menurun), tampak meringis dari skala 3 (sedang) menjadi skala 4 (cukup menurun), gelisah dari skala 3 (sedang) menjadi skala 4 (cukup menurun), tekanan darah dari skala 4 (cukup membaik) menjadi 5 (membaik) Kesimpulan: Terapi murratal Al-Qur'an efektif untuk mengatasi masalah keperawatan nyeri akut pada pasien kolelitiasis.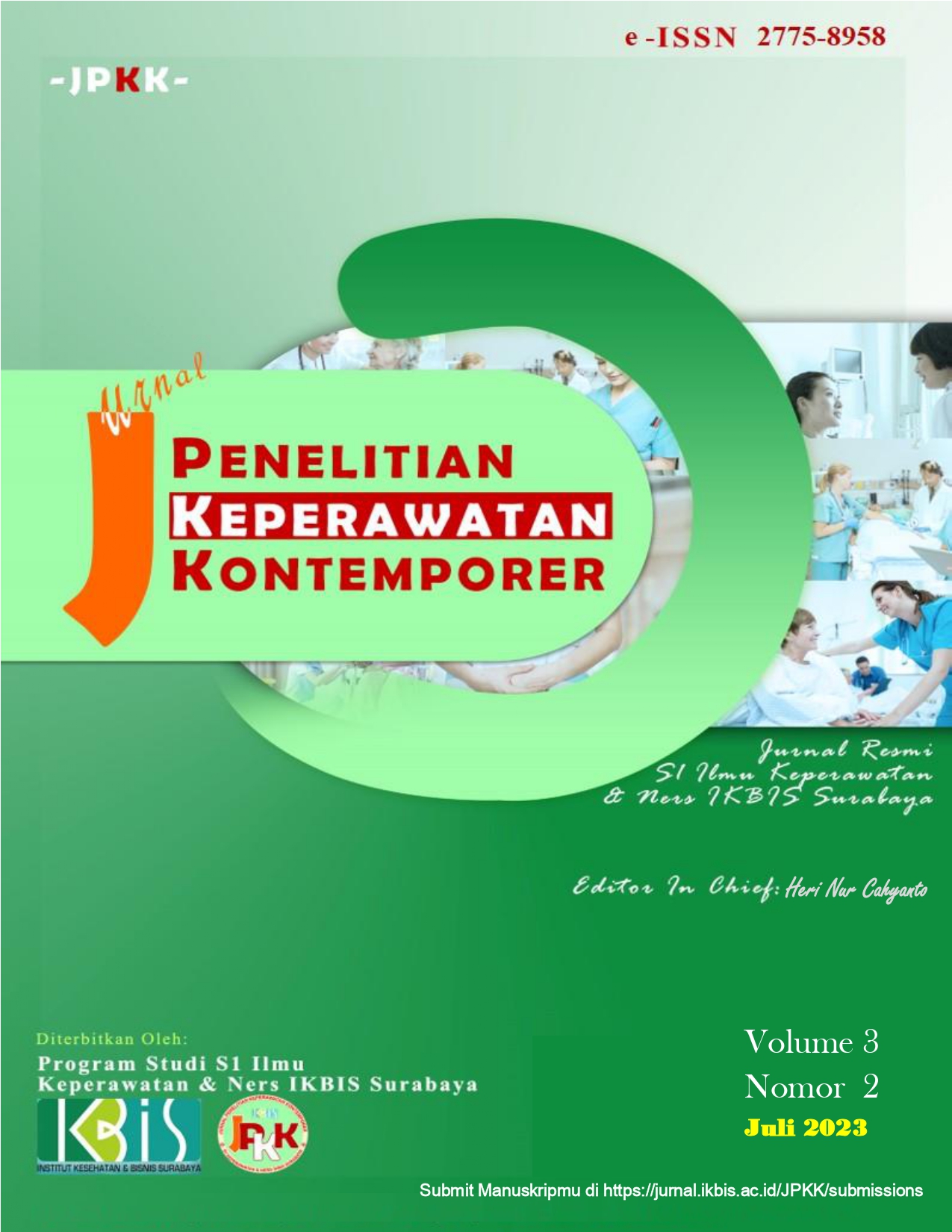 How to Cite
Giri, D., & Faizah, I. (2023). The Analysis of Nursing Care in Cholelithiasis Patients Using Murratal Therapy to Overcome Pain in the Dahlia Room, Jemursari Islamic Hospital Surabaya. Jurnal Penelitian Keperawatan Kontemporer, 3(2). https://doi.org/10.59894/jpkk.v3i2.520
Copyright (c) 2023 Dewi Puspa Giri
This work is licensed under a Creative Commons Attribution 4.0 International License.
All articles published by Jurnal Penelitian Keperawatan Kontemporer (JPKK), the authors hold the copyright under license Creative Commons Attribution License.