ANALYSIS OF THE LEVEL OF MENTAL HEALTH OF WORKERS USING THE BOGOR – JAKARTA ELECTRIC TRAIN TRANSPORTATION WITH WORK PRODUCTIVITY
Aldi Adi Pratama

University Al Azhar Indonesia

Faathir Alfath Risdarmawan

University Al Azhar Indonesia

Endrika Septya Adilfi

University Al Azhar Indonesia
Keywords:
Mental Health, Productivity, Regression, Stress, Workers
Abstract
Background: Mental health in an all-digital world, especially market expansion which tends to increase sharply, especially after the Covid 19 pandemic, is a very important scourge to maintain in increasing work competition capacity. Job competition in terms of career prospects and lifestyle, is something that is seen as elite, because the level of income is categorized as high. However, for workers who continue to target material outputs, without paying attention to mental health, it will result in decreased performance productivity in the field they carry out. Productivity is the ability of employees to achieve certain tasks in accordance with standards, completeness, cost, and speed so that the efficient and effective use of human resources in an organization. Aim: to find out whether the level of mental health of workers in increasing productivity, has a relationship with the mobility of electric rail transportation. Method:  This study uses a quantitative approach with the method of regression analysislinear simple. Simple linear regression analysis is an approach method for modeling the relationship between one dependent variable and one independent variable. In regression, the independent variable explains the variableits dependent. In simple regression analysis, the relationship between variables is linear, where changes in variable X will be followed by changes in variable Y permanently. Results: The results of the correlation value between x and y using the help of Microsoft excel 0.792, while the coefficient of determination is 62.8%, and the value of X is the equation Y = -8.13 + 1.17X. Conclusion:  The result of the correlation value between x and y can be 0.792 while the coefficient of determination is 62.8%, which means that the x value can explain y of 62.8%, the rest is influenced by other factors. Or you could say valuelevel stress which has a negative impact on mental health problems, affects valuesproductivity as well as the results of the intercept and the value of X with Y = -8.13 + 1.17X.
References
Abdulla, R. P. I. (2023). Hubungan Beban Kerja Mental dengan Kelelahan pada Pekerja di Perusahaan. Wal'afiat Hospital Journal, 04(01), 57–64.
Awalia, M. J., Medyati, N. J., & Giay, Z. J. (2021). Hubungan Umur dan Jenis Kelamin dengan Stress Kerja Pada Perawat di Ruang Rawat Inap RSUD Kwaingga Kabupaten Keerom. JISIP (Jurnal Ilmu Sosial Dan Pendidikan), 5(2). https://doi.org/10.58258/jisip.v5i2.1824
Cecilia, E., & Usmany, P. (2020). Dampak Pandemi Covid-19 Terhadap Proses Pembelajaran Online. Jurnal Akuntansi, 6(1), 23–38. https://ojs3.unpatti.ac.id/index.php/jak/article/view/2709/2283
Muhartini, A. A., Sahroni, O., Rahmawati, S. D., Febrianti, T., & Mahuda5, I. (2022). Analisis Peramalan Jumlah Penerimaan Mahasiswa Baru Dengan Menggunakan Metode Regresi Linear Sederhana. Lppmbinabangsa, 1(1), 669–672. https://doi.org/10.30604/jika.v7i2.1507
Purnami, N. M. I., & Utama, I. W. M. (2019). Pengaruh Pemberdayaan, Motivasi dan Lingkungan Kerja Terhadap Produktivitas Kerja Karyawan. E-Jurnal Manajemen Universitas Udayana, 8(9), 5611. https://doi.org/10.24843/ejmunud.2019.v08.i09.p13
Purnia, D. S., Adiwisastra, M. F., Muhajir, H., & Supriadi, D. (2020). Pengukuran Kesenjangan Digital Menggunakan Metode Deskriptif Berbasis Website. EVOLUSI : Jurnal Sains Dan Manajemen, 8(2). https://doi.org/10.31294/evolusi.v8i2.8942
Sejati Sihotang, K. M., Amalia, R., Hardy, F. R., & Maharani, F. T. (2021). Hubungan Faktor Pekerjaan Dengan Kelelahan Kerja Pada Pekerja Lapangan Proyek Pembangunan Gedung Pt. X Di Jakarta Pusat Tahun 2020. Jurnal Kesehatan Masyarakat (Undip), 9(5), 681–687. https://doi.org/10.14710/jkm.v9i5.30709
Waode Utari Nur Aisyah, Fahruddin Salim, & Mohammad Sofyan. (2019). The Influence of Service Quality and Price on the Interest of Commuterline KRL Passengers. Ilomata International Journal of Management, 1(1), 13–18. https://doi.org/10.52728/ijjm.v1i1.29
Wenda, A. (2022). Support Vector Machine Untuk Pengenalan Bentuk Manusia Menggunakan Kumpulan Fitur Yang Dioptimalkan. JST (Jurnal Sains Dan Teknologi), 11(1), 77–84. https://doi.org/10.23887/jstundiksha.v11i1.44437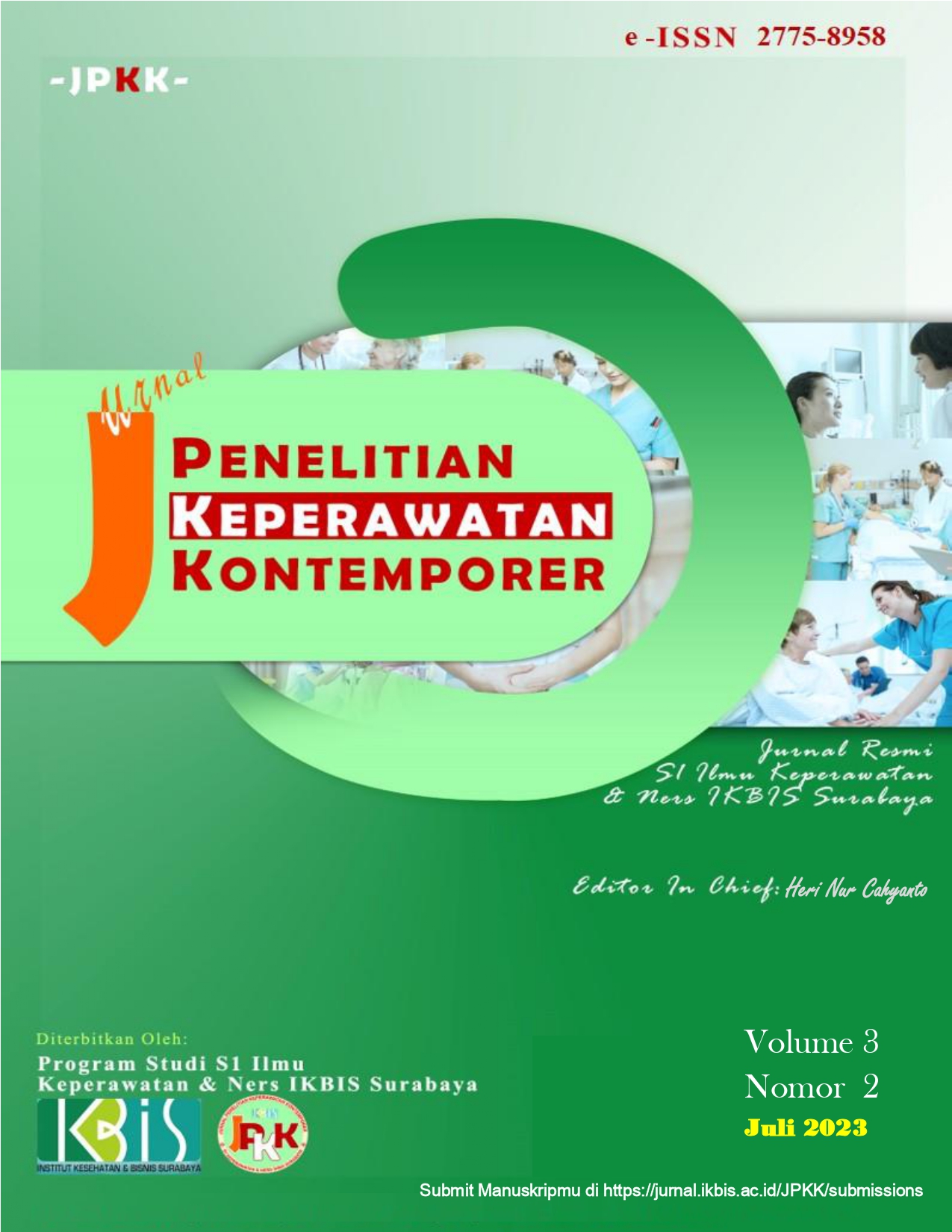 How to Cite
Pratama, A. A., Risdarmawan, F. A., & Adilfi, E. S. (2023). ANALYSIS OF THE LEVEL OF MENTAL HEALTH OF WORKERS USING THE BOGOR – JAKARTA ELECTRIC TRAIN TRANSPORTATION WITH WORK PRODUCTIVITY. Jurnal Penelitian Keperawatan Kontemporer, 3(2). https://doi.org/10.59894/jpkk.v3i2.493
Copyright (c) 2023 Aldi Adi Pratama, Faathir Alfath Risdarmawan, Endrika Septya Adilfi
This work is licensed under a Creative Commons Attribution 4.0 International License.
All articles published by Jurnal Penelitian Keperawatan Kontemporer (JPKK), the authors hold the copyright under license Creative Commons Attribution License.